TLC's mandate includes responsibility for all land use planning matters on behalf of the Toronto District School Board.
City of Toronto Planning Process
TLC is a commenting agency for development applications in the City of Toronto.  Development applications can be found on the City of Toronto's Application Information Centre.
Official Plan and Zoning By-law Amendment Applications 
The diagram below highlights the different opportunities for TLC and TDSB involvement in different stages of the City of Toronto development application planning approval process for official plan amendment and zoning by-law amendment applications.
The Land Use Planning team reviews development applications to protect the interests of the TDSB and its students through consideration of:
land use impacts on TDSB properties and the health and safety of the school community e.g. shadows on school playgrounds, traffic impacts, construction hazards; and,

impacts on local school accommodation capacity (in consultation with TDSB student accommodation staff).
In addition to providing comments during the formal circulation of the application, TLC may also engage with City staff and the developer during the City of Toronto's planning approval process.
Site Plan Applications
Prior to obtaining building permits, the City of Toronto requires applicants to obtain site plan approval, which involve detailed plans, drawings, and technical studies that address features such as building design, site access and servicing, parking, loading and landscaping.  The City may impose conditions to the approval of the site plan, which can be further secured through a site plan agreement registered on title.  
During TLC's review of site plan applications, TLC – in consultation with TDSB staff – will request the City include conditions of approval such as signage and warning clauses (where there are student accommodation concerns) and construction management plans (where development is close to school sites).   
Development Near School Sites
TLC encourages developers undertaking city building projects to meet with TLC early in their planning process to identify and discuss potential land use and/or accommodation impacts. Land use impacts may be of particular concern on development sites abutting TDSB properties.
In reviewing development applications close to TDSB properties, TLC planners:
Meet with TDSB school staff to evaluate potential impacts of development (shadow, traffic, etc) on school sites and operations.

Work with city staff and the development community to mitigate issues with respect to intensification/development impacts on TDSB sites.

Participate in City-led community consultation meetings and TDSB information sessions relating to development proposals impacting schools. 
Click on the map below to read more about some development applications near TDSB sites, with significant land use planning issues: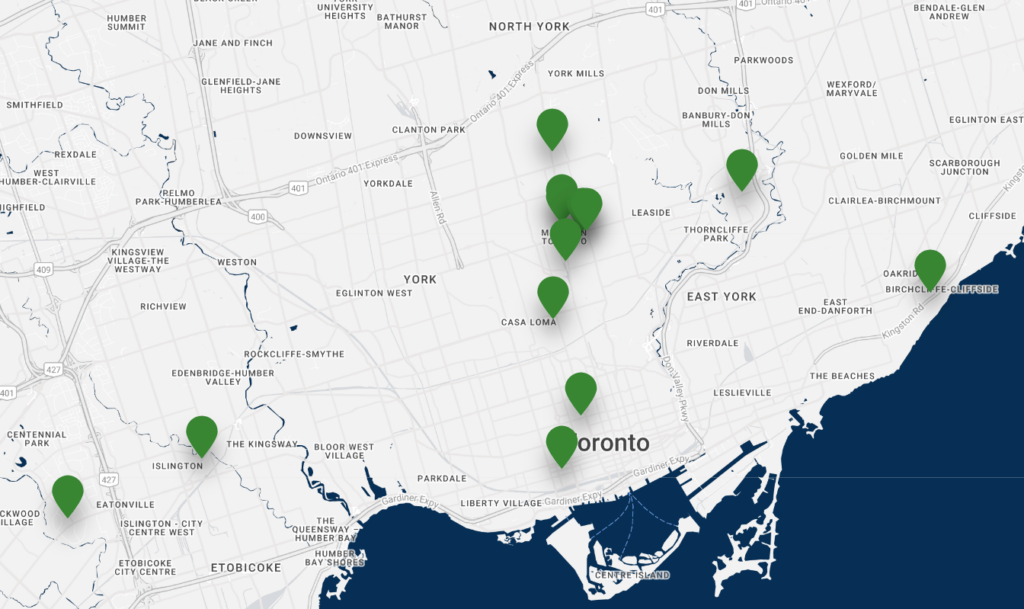 School Accomodation
Development applications are reviewed jointly by TLC's Land Use Planning team and TDSB's Strategy and Planning team to address impacts on school accommodation. 
TDSB's Strategy and Planning Division is responsible for student accommodation planning, including the development of an annual ten-year Long-Term Program and Accommodation Strategy (LTPAS); managing enrolment data and determining enrolment projections; conducting accommodation reviews/studies; facility space management; and capital planning.
TDSB's Strategy and Planning Division advises TLC's Land Use Planning team on accommodation challenges and issues; and in turn, TLC's land use planning work informs TDSB's enrolment projections and accommodation planning.
School Utilization Data
The City of Toronto may request development applicants to prepare a Community Services and Facilities (CS&F) Study to identify the capacities of local community infrastructure and service providers. Applicants should request pupil yields and school utilization data from TLC for their specific development proposal, noting the number of residential units, tenure type (rental or ownership), and number of affordable units.  If tenure type or residential unit counts change, an updated CS&F response should be sought from TLC.
Applicants should only use the information provided by TLC (in consultation with TDSB accommodation planning staff) for their CS&F report for determining the proposed development's impact on TDSB schools.  
It is important to note that using previous information or information obtained from other sources may lead to errors in analysis and / or unintended misrepresentation of the TDSB's ability to accommodate students from the proposed development. In particular, student yield ratios (pupils per unit) should not be included in CS&F documents, nor should they be applied to other development proposals, as these are based on internal TDSB methodologies and are subject to periodic review and revision without notice. 
Signage and Warning Clauses
Where TDSB staff have determined that there may be insufficient capacity to accommodate students from new residential development, TLC and TDSB may request site plan approval conditions requiring the applicant to erect signs on the development site and include warning clauses in all offers of purchase and sale/lease/rental/tenancy agreements to inform new residents of the student accommodation situation.  Site plan conditions may also include a requirement to provide estimated occupancy dates and a commitment for periodic updates on expected occupancy to provide the TLC and TDSB with information for enrolment projections.
The following document provides specifications for signage that may be required for development applications:
Ontario Land Tribunal
The Ontario Land Tribunal (OLT) is a provincial administrative tribunal that hears, decides, and mediates appeals on matters related to land use planning, environmental protection, heritage protection, land valuation, land compensation, municipal finance, and related matters.  The OLT was formerly the Local Planning Appeal Tribunal (LPAT) and previous to that, the Ontario Municipal Board (OMB).
Where TLC's concerns are not addressed through the municipal planning process, TLC, in consultation with TDSB staff, will consider whether to get involved at the OLT.  TLC planners may participate in OLT hearings and mediation sessions on behalf of the TDSB as an expert witness on land use planning matters. 
Click on the map below to read more about OLT matters where TLC is currently or was recently involved: